PROGRAM 2022
WORK EXPERIENCE
[9h00 - 9H30] Networking Breakfast
SESSION 1 - Hybridization of work: optimize the flexibility of your organization
Implementation of the 4-day week, AI in recruitment processes, metaverse as an internal communication tool... Come and learn about all the latest innovations to optimize the flexibility of your organization. Our speakers will give you all the major trends and best practices to implement to better understand this new hybrid organization.
Welcome Speech

[Opening Keynote] Future of Work: what trends and innovations in 2022?

[Ice Breaking] Round table of participants
Open-Work: a driver of commitment and a performance lever for La Mutuelle Générale
How to offer a better quality of life to its employees and encourage a maximum rate of commitment while maintaining its performance? A look back at the implementation of an innovative and daring work organization.
Responsable de l'Ecole du Management et innovation RH

Responsable du Département Data & iA


The remote, what impact in the race for talent?
Remote first, hybrid work, casual work... the last three years have shaken up the codes for remote work. How do these new expectations of candidates translate for HR teams? Which models are the most popular, and how can they be met in concrete terms?

How Doctolib improves employee well-being through digital tools
With more than 9 digital tools used per day per employee in France, mental fatigue and even burnout can quickly set in. Ensuring the well-being of Doctolibers has always been a priority at Doctolib. Discover how Salomé, People Development Excellent Manager at Doctolib, has set up a digital comfort program to improve the well-being of her employees.
People Development Excellence Manager

Head of Marketing Southern Europe

Out of sight, out of mind: digital tools to strengthen team cohesion
How do we define hybrid work in 2022? What are the different ways to apply it? Frédéric Abitan, Director of Miro France, will share his vision of hybrid work and explain how to find the right balance in this context.

Digital Workplace: How to get past the Early Adopters? Example of Kantree at Orano
In a digital transformation program, the goodwill of early adopters is necessary but not sufficient... Discover how Orano succeeded in its program by introducing a tool that makes teamwork more fluid, by setting up a deployment phase to make practices evolve, and by accompanying the change by suggestion rather than by convincing.
R&D/Innovation Portfolio Manager, BU DS


Deploying blended learning courses in an international context: the example of Biologique Recherche
Biologique Recherche, a professional cosmetics brand created in the late 1970s, is the result of a combination of a clinical approach and personalized care. The brand was acquired and went international in 2007. Today, the brand is distributed in more than 80 countries to numerous beauty institutes, medi-spas and luxury spas. In 2019, they choose Rise Up to launch their blended learning campus with one goal: to promote their product training and skincare techniques around the world. Translated with www.DeepL.com/Translator (free version)
Digital Training Project Manager

Expert Learning & Development

Youth, the driving force behind digitalization
Directeur et Fondateur - MBA Spécialisé Digital Marketing & Business

[11h25 - 11h50] PAUSE NETWORKING
[11h45 - 12h15] MASTERCLASS HYBRIDES
[Masterclass] Biologique Recherche x Rise Up - How to generate maximum learner engagement through blended learning?
Learner engagement is one of the major challenges of digital training. Learner isolation, lack of human interaction, unattractive content... These are all preconceived notions that training professionals and companies must work on to ensure an effective increase in skills. Based on their experience in the training sector, Cyrielle Rul, Digital Training Project Manager at Biologique Recherche and Thibaud Wery, Learning & Development Expert, reveal the keys to learner engagement. Translated with www.DeepL.com/Translator (free version)
Digital Training Project Manager

Expert Learning & Development

[Masterclass] Doctolib x Asana: 5 tips for developing a digital comfort program and optimizing employee well-being
During this Masterclass, Kevin Bosc (Asana) and Salomé Bidaux (Doctolib) will share 5 tips for developing a program to improve the well-being of your employees.
People Development Excellence Manager

Head of Marketing Southern Europe

📍INTERVENTION EN EXCLUSIVITÉ AU HUBLAB 📍
Aim for the top, to succeed become a strategist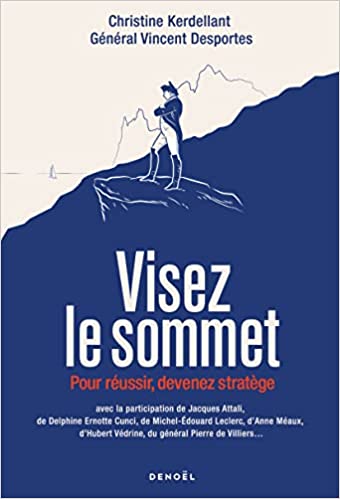 Général de Division, Conférencier, Auteur


[12h50 - 14h00] LUNCH BREAK & BUSINESS MEETINGS
The networking cocktail is open to all participants!


SESSION 2 - QWL, CSR & Training: how to engage your employees in 2022?
How to improve the employee experience? How to create commitment within your organization? Internal training, inclusion, asynchronous work... So many levers that will be presented throughout this session to allow you to set up a seamless organization.
[Keynote] Future of Work: to engage your employees, engage yourself!
Does the very notion of engaging employees make sense? Let's ask the question in the right way? :)  Is a successful relationship based on what we give or on what we expect?  We will reflect on the three facets of an engaging organization! 
Senior Digital Consultant & Fondatrice de Be Birds

[Ice Breaking] Round table of participants
Internal training as a commitment driver and performance lever
Traditional training practices are often part of a forward-looking management of skills to meet an identified development need. Sandrine Humphrey, Director of the School of Banking and Networking at La Banque Postale, will explain how to take a different look at training, i.e. to consider it as a gas pedal of transformation and success of a strategic plan.
Directrice de l'Ecole de la Banque et du Réseau

CV-free pre-selection, digital integration, redesigned training: how Franprix combines innovation and inclusion
For the past 3 years, franprix has been implementing an innovative and inclusive strategy to rethink the entire candidate and employee experience while remaining true to its values of equal opportunity. Jonathan Goldfarb, Director of Recruitment, Training & Digital HR Projects will share the key points of this strategy.
Directeur Recrutement , Formation & Projets Digitaux RH

Succeed in change management via an interactive digital tool: create and measure employee commitment and motivation
Ensure the merger between different internal departments, develop a change management approach on a national scale and get employees on board to give them a common will to work more efficiently together... Find out how Action Logement ensured its transformation through joint reflection workshops.
Responsable Projets Organisation

Directeur Général Adjoint Transformation et Organisation


Conquering talent: what to do when the tables turn
To face a changing job market and a shortage of talent, Groupe Partnaire and Indeed France have chosen to place innovation at the heart of their recruitment process. Aurélie GOBINET-GMUENDER Vice-President of Groupe Partnaire and Matthieu ELOY Managing Director of Indeed France will share with you the keys to a precision recruitment strategy, rethought and innovative.


Secure and optimize hiring with the background check, at a time of ultra-digitalized recruitment processes
Very common in the Anglo-Saxon world, the background check is beginning to make its mark in France. This practice consists of checking the professional background of a candidate before hiring. With the explosion of remote recruitment since the COVID, the verification of diplomas and experience, and the taking of references are essential tools to secure and optimize hiring.

Achieving a balanced transition to a hybrid model
Between the fundamental evolution of our model and the constant adaptations of everyone, the world of work is adapting in a constrained context and short deadlines. Managers and employees are questioning individual performance and collective efficiency, autonomy and visibility, personal comfort and collective commitment. How to win on both fronts? What new solutions can be found to establish a new balance? What leadership style should be established to build the reference points that everyone needs today?
DRH d'Unités, en charge des nouvelles façons de travailler

At Innothera, an onboarding program 100% focused on values
Let's go behind the scenes of an integration program for newcomers that is as unique as it is innovative. Inspired by Canadian methods, Xavier Tedeshi shares with us the origins of this atypical program, his personal commitment to its implementation and the broad outlines of the content of an onboarding program that is sure to be memorable for employees.
Directeur des Relations Humaines

Senior Digital Consultant & Fondatrice de Be Birds

Survey, Q&A: it's up to you!
#DigitalInclusion: women at the heart of Tech
How can we make sure that digital technology is a lever for everyone? What are the problems linked to the lack of women in this field? Sandrine Delage, co-founder of the "Women & Girls in Tech" collective (with BNP Paribas, Simplon, Digital Ladies & Allies and BECOMTECH) will share her experience of intergenerational cooperation as a trigger to promote orientation, recruitment and retraining in the digital professions.
Head of Change Makers & Prospective - Group Communications - Exco member

Suez: social innovation at the service of the organization
Social innovation is more than ever a strategic issue and a performance factor for organizations. Why is this so? Because to accelerate the ecological and solidarity-based transition of territories, the challenge is not only to invent new solutions but also to deploy on a large scale the many existing and proven solutions. To do this, companies must be creative, innovate contractually, co-construct projects and new business models with their customers, support social entrepreneurs and work hand in hand with actors of the Social and Solidarity Economy (SSE). Translated with www.DeepL.com/Translator (free version)
Directrice Adjointe Innovation Sociale

HUB Institute and LAB RH, together to animate HR communities!


[16h20 - 16h30] NETWORKING BREAK
[16h30 - 17h00] MASTERCLASS HYBRIDES
[Masterclass] Employer branding and talent hunting: FDJ's best practices
Making a lasting difference with candidates thanks to its authenticity and corporate culture. This is what drives many companies today in their search for talent. However, many of them still don't know how to promote their employer potential and miss out on great opportunities. This is a considerable shortfall when you consider that 95% of candidates find out about a company before they even apply. How can you renew your employer brand and attract strategic talent for your organization? FDJ has opted for a 360° employer brand, embodied by an ambitious threefold mission: to promote its corporate culture in the broadest sense, to make its various professions visible, and to establish itself as a key employer. Carole Dubois-Valmier, FDJ's Employer Brand Manager, will tell us how they did it. Translated with www.DeepL.com/Translator (free version)
Responsable Marque Employeur

Antoine-Benjamin
Lequertier

[17h00 - 19h00] SESSION NETWORKING
Take time to meet, exchange and share your use cases and issues during meetings organized by our teams. You can ask Yamna and Joanna to schedule your online or physical meetings with your peers and/or event partners.
Cheffe de projet networking et communauté
Cheffe de projet communauté et évènementiel
[7.00pm - 10.30pm] 🥂GALA DINNER🥂
Ask for your place* to participate in the annual dinner of the Future of Work actors which will be punctuated by insights and networking moments. Our guest of honor, Kevin Bouchareb, Future Of Work and HR Transformation Expert will speak on the social and societal paradigms that are creating change in our relationship to work Booking :

[email protected]

*Seats reserved for guest speakers, members and trial offers.